PAINTED FUNFETTI WINE BOTTLES
Simple & fun craft for all ages!
Anyone, and I mean anyone, can create this craft. It's a great project for kids to do with their parents, and seniors love it.
Project time is under 1-hour.
SUPPLIES

Along with the obvious supplies needed (water, cloth, work table) I have highlighted a few that I found to be optimal for this project. I'm writing this post during the 2020 quarantine and I know it's a challenge to get supplies but there is the option to purchase some online. I know locally in my town, the Ocean State Job Lot stores are open for shopping, if you feel comfortable going out. I highly recommend frequenting this store in the future after the quarantine is lifted, for art supplies. They carry a nice variety of quality papers, canvases, and other craft materials at amazing prices.
• Acrylic Paint: this gold DecoArt Metallic Paint is what I used as a base on all my bottles. It's thick and applies nicely. For the additional colors you will be applying over the gold, you can purchase kits like this one, or, any acrylic paint like this DecoArt from Dick Blick. An amazing bang for your buck is this offer at Michael's.
• Small Detail Paintbrush: any small craft brush will do, similar to those in this package.
• New Pencils: I say 'new' because you will need a pencil with an eraser head that has never been used yet. This is your tool used to create your funfetti dots.

• Empty and clean wine bottle: for those that don't drink wine, there are other options of beverages you can purchase that will fit for the lighted cork.
• Fairy Light Corks: I have had good luck with this offer on Amazon. I have ordered consistently and have yet to receive any that were defected. I like this seller because they offer warm and cool white lights, and colored as well. And, extra batteries are included.
• Cloth, cup of water, and palette: I save all the plastic tops from food containers and use these for my paint palettes. If you let your paint dry on them overnight it will peel up nicely the next day and you can reuse them over and over.
PREP YOUR BOTTLE

Using a flat razor scraper, you can remove most of the paper from the labels. I use odorless mineral spirits that I put in a spray bottle and mist the wine bottle after I remove the label. Scrubbing with a sponge, this will help take away the remaining adhesive left on the bottle. Wash the inside and then finally the outside with soap and water, turn upside down and let dry. Any oils left on the outside of the bottle will resist the paint you apply. Using rubbing alcohol with a cotton ball on the outside prior to painting will remove any additional dirt.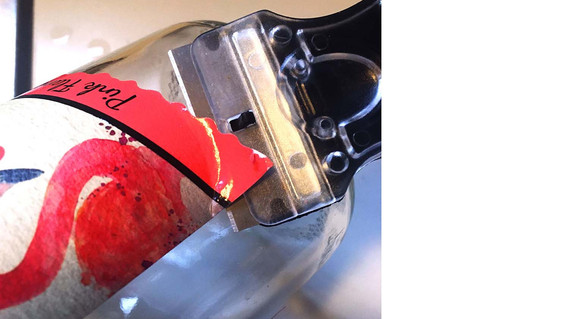 This is your project so you can do whatever you want, but for the purpose of this tutorial, I will walk you through the steps I completed for my bottles. For this bottle, I used a total of 8 colors. You can use less, or more. It's also a good idea to start with the darker colors in your palette, and finish with lighter and brighter colors. Start with gold – you will add a lot of gold dots. It's a good neutral color that provides a nice soft background for the colors that will follow – and I like the soft shimmer.
To Create Your Dots
*Tip: I hold the top of the bottle, turn the bottle upside down and always start at the bottom – you can always add more dots but can't take them away once they're on!
1. Add your paint to your palette, about the size of a quarter, and spread it out with your eraser.
2. Wipe your eraser clean and then dab it straight down into the paint. The paint should not be heavy and should only cover about 1/3 of the eraser head. Adding too much paint to your eraser will result in a messy glob on the bottle.
3. For all your paint layers, the key is to apply a larger quantity (volume) of dots at the bottom and slowly work your way up to the top, diminishing the the number of painted dots as you get closer to the neck of the bottle.
ADDING MORE PAINT DOTS
Continue to build your layers of colored dots. My next color was a nice emerald green. Remember to continue to wipe off the eraser with a cloth as you add paint to it so your tool stays clean and free from too much paint. Each layer of color you add you will start again at the bottom adding your dots and diminishing them as you move up the to the top of the bottle. Don't be afraid to place them over the previous color you applied. It will not smear, and this will create a nice layering effect.
I followed the emerald green with a dark teal color. Then I applied lime green, and finished with a bright yellow color.
FINISHING WITH SMALL DOTS
When you finish adding the layers of color, rotate the bottle and check it over to see if there are areas you need to add a few more. The goal is to make this a very small fade of lots of dots at the bottom, to very few sprinkled across the top part of the bottle. Then, I take my small detailed paintbrush and add a bunch of small flecks all over the bottle. Again, more at the bottom and fewer at the top. I chose marshmallow and orange.
ADDING THE LIGHTS
After your bottle is dry, you can add your lights. Pull the plastic tab off before testing. Test the button to be sure the lights work and then unwind them. Drop the line down the bottle, turn the button on, and BAM! – you're done!
DRINK UP, AND MAKE MORE! Enjoy!